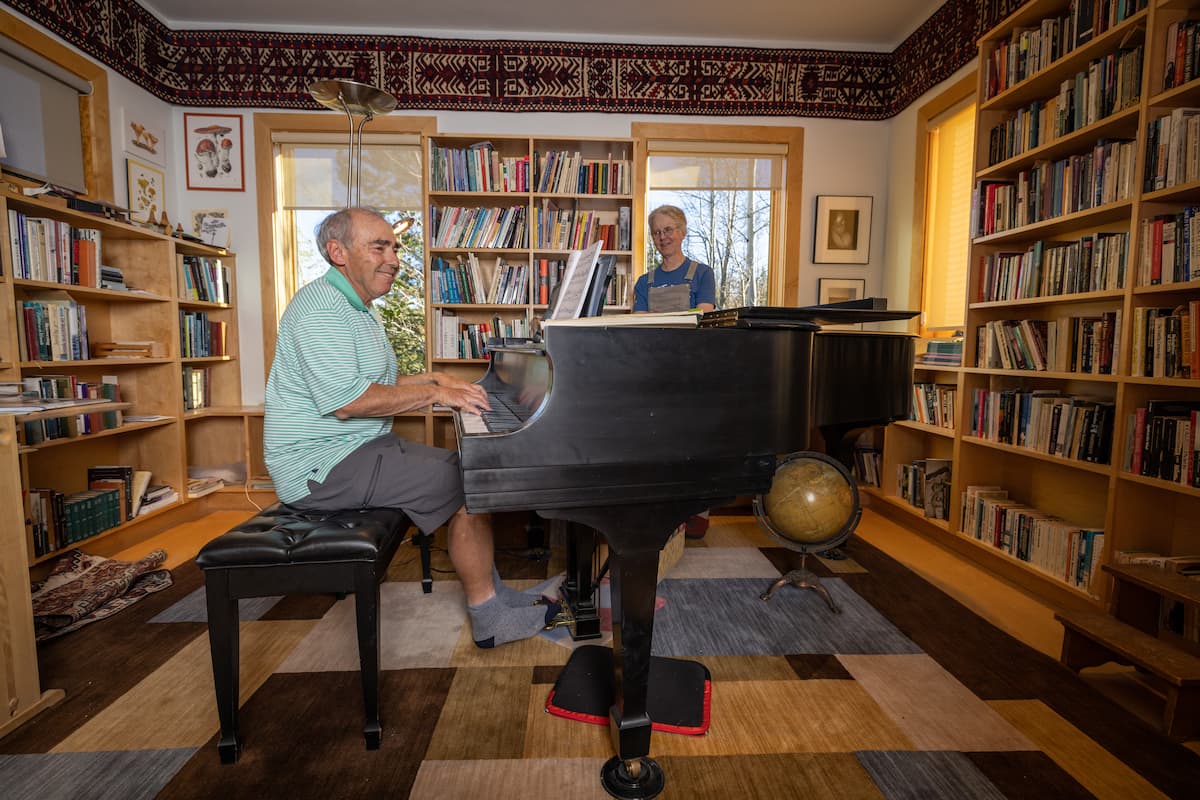 When it comes to home heating, Mesa Cortina residents Stan Wagon and Joan Hutchinson are trailblazers. In 2022, they turned off their boiler and replaced it with an electrically-powered cold climate heat pump that integrated with their existing in-floor heating system. What have they noticed? "Nothing at all," says Stan – which is the ideal outcome for this transition. The heat pump system still heats the floor. It works. Their home is comfortable.
Stan and Joan were part-time residents for years before building their current home in 2008 and making the switch to full-time residency in 2013.  Avid Nordic skiers, they can be found on local trails most days of the week. They're both retired mathematicians, and Stan has enjoyed keeping tabs on the new heat pump and comparing the cost of heating with electricity to what he's paid for gas in the past. With recent increases natural gas rates, the heat pump is beating the boiler; for most of winter 2023, it was less expensive to use the heat pump to keep their 3,800 square-foot home warm (gas rates dropped in February 2023, making the two fuels more competitive).
For those who wonder about the efficiency of heat pumps at cold temperatures, Stan's found that the heat pump works well down to –5 degrees F. At that point, the backup electric boiler kicks on. And even though the backup boiler is less efficient than the heat pump itself, Stan's calculations show that it's still more economical to use the electric boiler instead of his old gas boiler.
HVAC nerds take note: Stan also installed sensors on the refrigerant line coming in from the heat pump. The refrigerant has gotten as hot as 150 degrees F. Stan notes, "This is impressive: It can extract heat from 30-degree air to get fluid up to 150!"
Speaking about economics, what about the cost to install his system? Stan and Joan paid roughly the same amount to install his heat pump as you might expect for a boiler replacement. And with new federal and local incentives, heat pumps will soon be eligible for several thousands of dollars in rebates and tax credits – including local incentives from HC3.
As for Stan and Joan's gas boiler, they haven't used any gas in over a year – not even for cooking. In addition to installing the heat pump, they also swapped their gas stove for an efficient induction model. Stan muses, "We really should have Xcel disconnect the meter."
"There's no downside. If your boiler breaks, you should consider getting a heat pump." – Stan Wagon
Interested in improving the energy efficiency of your home? HC3's Energy Smart Colorado program can help pay for your project.