Strong Future Recycling Grants
To work toward Summit County's community goal of 40% waste diversion by 2035, Summit County Government created the Strong Future Community Grants program to support projects that prevent waste and increase local waste diversion. High Country Conservation Center (HC3) manages the program, which had $325,000 allocated for grants in 2023. Grants are funded through Strong Future, a mill levy approved by Summit County voters in 2018.  
Learn more about the projects happening below.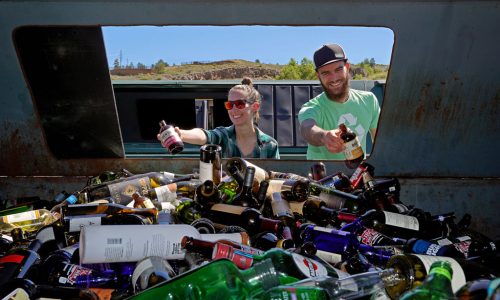 Local Waste Reduction Projects
The compost bin project at Grand Timber Lodge aims to establish a comprehensive composting program with bins in every residence. Anticipating engagement from over 30,435 stakeholders, the initiative is set for full execution by September of 2023. Similarly, the Grand Colorado on Peak 8 Dishwasher project will install a commercial dishwasher by July 2023, reducing single-use plastic waste by over 50,000 cups and 8,000 items.
CAFE Food Rescue collects surplus food from various sources across Summit County and distributes to recipient organizations, reducing food waste and curbing emissions by 154 MT CO2eq. In the upcoming year, CAFE Food Rescue aims to recover 100,000 pounds of food, providing 83,000 meals and addressing 17% of local food insecurity.
Garbage Gurus aims to address Summit County's environmental and workforce challenges through sustainable waste handling solutions. Goals include launching food scrap collection service, expanding recycling services, and reducing costs for workforce communities. This project will decrease landfill waste and greenhouse gas emissions, promote sustainability, lower collection expenses, and enhance the county's environment.
Copper Mountain Resort will implement the first and only community food scrap drop-off location at Copper Mountain at the Conoco off Frontage Road.
Since 2015, Breckenridge Town has managed 10 commercial glass recycling enclosures downtown, serving 250+ businesses and residents. This project aims to sustain this program to meet material management goals from the SustainableBreck plan. The Town commits to diverting 40% of waste and views the glass recycling initiative as pivotal. Currently diverting 275 tons yearly, this program enables separate glass recycling, supporting Summit County's requirements. The project's ongoing aim is continuous waste diversion via glass recycling.
The Town of Dillon plans to construct a waste sorting facility at 150 Marina Drive, aimed at boosting recycling and curbing landfill waste. The facility will be built, staffed, and operationalized, aiming to divert 50% of town waste from landfills and reduce landfill-bound waste by 40%. Projected to start in Summer 2023, with construction commencing in Spring 2024 and concluding in Fall 2024, it's Town-funded and supervised by Scott O'Brien, Matt Lope, and a Minimal Impact consulting team.
This project aims to enhance the Village at Copper's recycling by deploying animal-proof bins for glass collection at bus stops and parks, while also introducing glass-only recycling bins to residential complexes and community assets. Bilingual recycling signs will also be included at 42 buildings. With Strong Future funding, The Village at Copper will invest in wildlife-resistant bins for separate glass collection, greatly improving the recycling system.
The Village HOA in Frisco will replace their community trash dumpster with a multi-use Universal Recycling structure. This will enable responsible sorting and disposal of glass, plastic, aluminum, cardboard, paper, and trash. The project aims to divert at least 1/3 of the annual 63-ton landfill waste.
This project will add the collection of recyclable materials and improve the collection and disposal of trash at Woodworks Townhomes. The Association plans to redesign the two dumpster locations with side-loading dumpsters, which are more resistant to wildlife damage and user-friendly. Additionally, this project includes implementing the collection of recyclable materials. The goal is to encompass minimizing dumpster damage and reduce trash by 26% through recycling practices.
The Mobile Eco-Hub is a pioneering initiative to encourage eco-friendly choices, provide bulk refill options, and collect hard-to-recycle items. This project will transform a van into a 'refillery' and collection site that will travel to neighborhoods, promoting sustainability throughout Summit County. Expected impact includes serving 75 households monthly, reducing waste by around 5%, particularly single-use plastics. With community engagement, Minimal Impact aims for a 10-ton landfill waste reduction in our first year, setting an enduring example for similar endeavors.