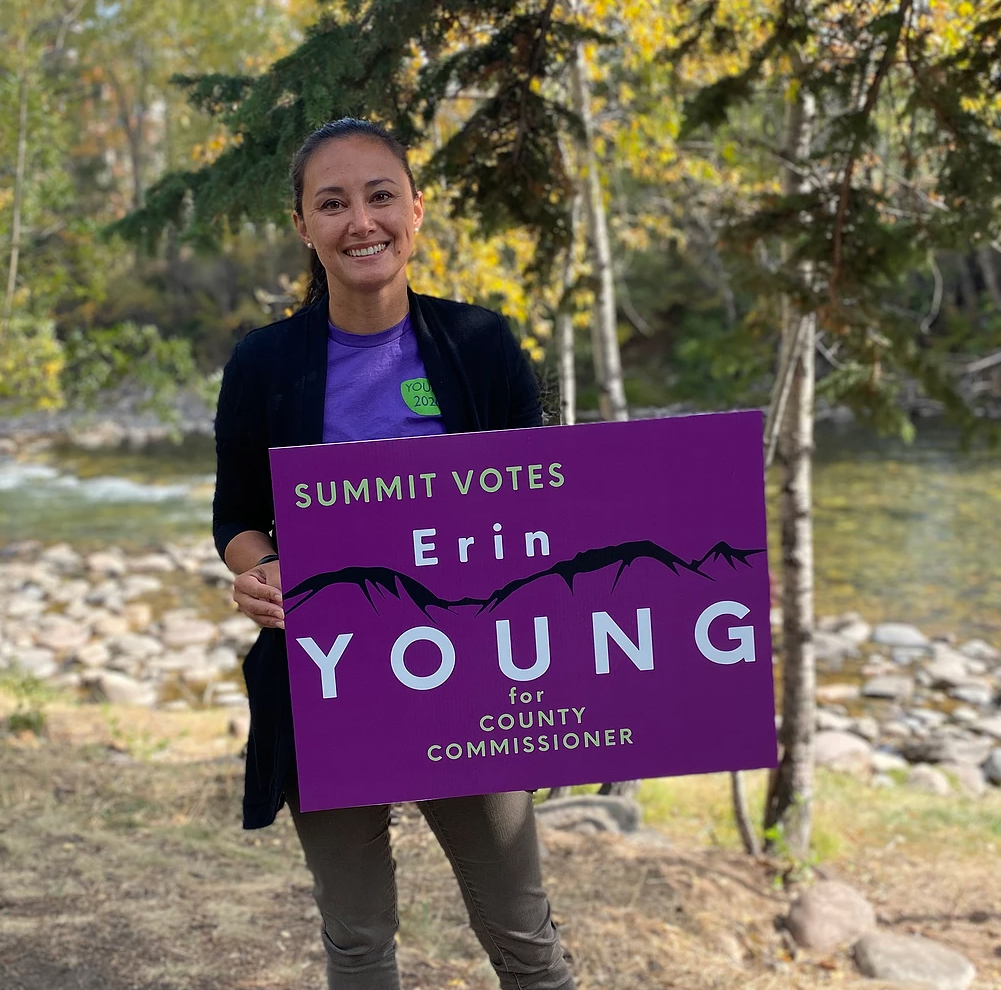 What is most concerning to you about climate change impacts to our community?
We live in this community for many things, but the fresh air, clean rivers, fluffy powder, green forests, and abundant wildlife are highlights of what keep us here and what inspire new people to come. When I was a child in Silverthorne I remember the rare summer day that temperatures reached even close to 80. Most January mornings, when the sun was still down and we were walking to the school bus, it was still -30 and we were lucky if it had warmed to double digits for the walk home.
Since my childhood I have been able to see the swift impacts of climate change. Those cold winter nights no longer lasted a whole month, allowing Pine Beetle to decimate thousands of acres. Combined with a 2020 August whose average temperature hovered near 80, our County lives in a heightened fear of catastrophic forest fires. The snow is coming in less frequent, yet larger dumps, causing more days of highway accidents that cripple our roadways. Luckily, I still get to plan my kid's Halloween costume around a winter coat, but I worry that in just his childhood that will change too. Even so, I don't think anyone doesn't appreciate a week more of our beautiful summers or those 2' powder days. Tourism numbers to the community have only continued to rise to record breaking numbers ever year. But this is a fragile relationship. The Corona Virus illustrated to us just how reliant we are upon visitor traffic to our community to enjoy our natural amenities. Without reliable snow our ski resorts have to either make more, or adjust their seasons. With mountain summer days significantly cooler than the Front Range, more people will come to Summit, causing wear and tear on our trails, campgrounds, forests, and rivers. We must maintain a balance with our economic growth (see: energy/environmental use) and the Nature that provides for it.  Waste, in the form of litter and landfill lifespan, need to be curbed. Incentives and education for waste diversion is a start to reaching out to our community. Long term architectural and civic planning in new development and redevelopment should look to reduce carbon emissions or entirely eliminate them. People who live and visit Summit County would all agree to preserve and protect our natural amenities. The contaminated recycling centers suggest that people want to do the right things to do so. We just need to make sure that our infrastructure and communication plans ease and support these efforts.
Would you support a local Renewable Energy Program that would require renewable energy on buildings that use large amounts of outdoor energy?
Quite simply, yes, I do support a local Renewable Energy Program. I  want to hear from our builders and developers about their concerns in these regards. We can sell the long term benefits until the cows come home, but unless we have buy in short term, it will be an uphill battle from the starting gun.
Would you support a "universal recycling" policy that would require recycling collection at businesses and residences across the community?
As I mentioned earlier, I believe that people truly want to do the right thing. If given the opportunity (and if it is clear and simple enough) people will commit to waste diversion. Universal recycling would be an ideal start. Of course, we would need to work through who is in charge of transport to our recycling center (if we increase recycling, can our center handle it all or will we need to invest in better sorting); working with HOAs about storage, snow removal, and contacts for misuse; associated costs for the County, HCCC, and community members; and multi-lingual communication to help educate and reduce contamination. Businesses are an excellent place to start as many already have recycling pick up arranged. In my own business, patrons typically appreciate having recycling and composting. It is evident in how many (unfortunately) non-recyclable items I sort out of my recycling and back into trash. The desire to divert waste is there, we just have to make it accessible, affordable, and simple.
summitvotesyoung.com
< BACK