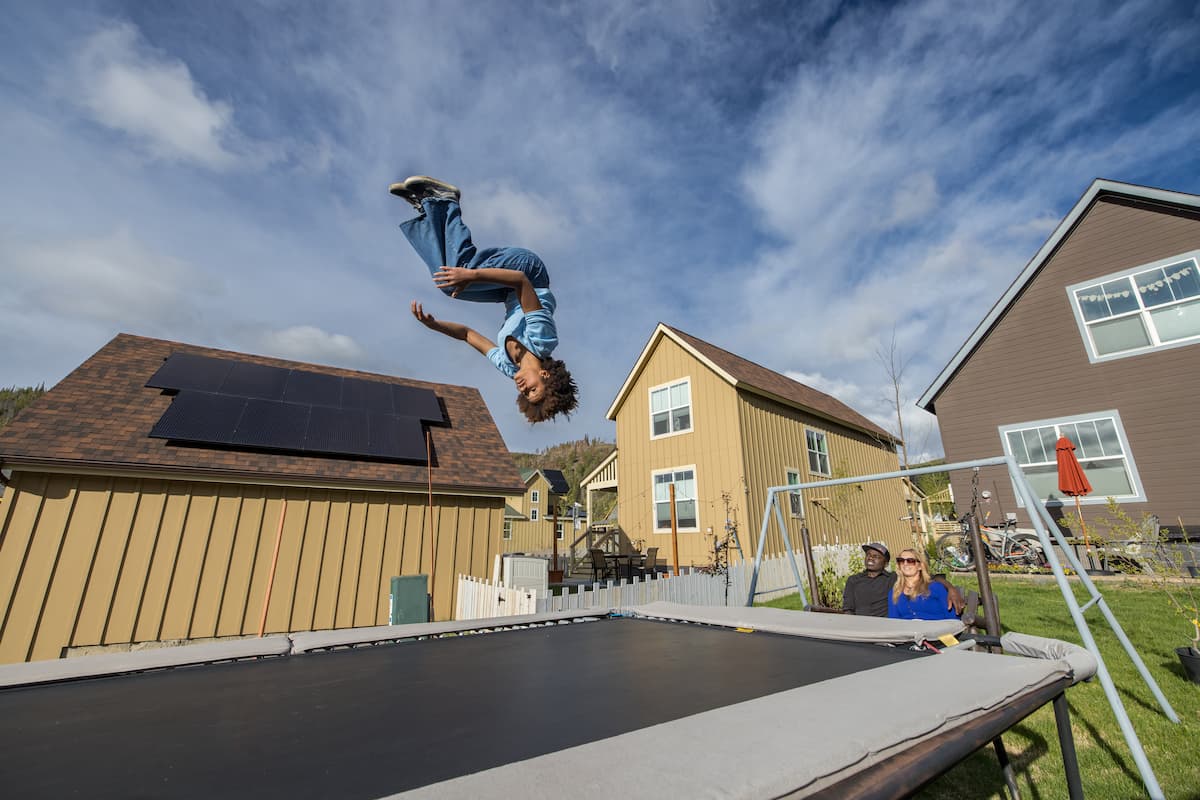 Hungry for a great pasta pescatore? You just might need to befriend Andre Hampton. A native New Yorker, Andre moved to Summit County in 2006. He did stints working for Keystone Ski Patrol and as a raft guide, but he always had a night job cooking. In 2007, he started Black Diamond Gourmet Catering, where he's the head chef. And in 2022, he opened the Black Diamond Grill in Copper's Center Village. Somehow, this foodie entrepreneur still finds time to let loose on the local mountain bike trails.
Andre and his wife Courtney, daughter Ayla, and dog Roxy moved to Breckenridge's Lincoln Park neighborhood in 2018. Courtney is a wedding DJ and loves to garden and hike. High schooler Ayla is a gymnastics phenom. And Roxy? She can smell a moose from half a mile away. What does this family like best about their home? The sense of community. "The neighbors make it really incredible," Andre says.
Aside from friendship, the Hamptons now share something else with many of their neighbors: rooftop solar panels. They signed up for the Solarize Summit program in 2021 – and while they appreciate the environmental benefits, their primary motivation was financial. "The solar panels cover all our electricity use," explains Andre. "In the summer, we produce more than we need. In the winter, we spend the credits Xcel gave us for the extra electricity in the summer."
As Ayla does flips on the backyard trampoline, Andre and Courtney reflect on their Solarize experience: "The rebate from the Town helped make it affordable. And we thought it would supplement our bills, which it does."
It's a sentiment their neighbors seem to agree with; 35 Wellington and Lincoln Park homeowners have participated in Solarize during the program's first five years.
Project Cost: $14,064
Federal Tax Credit: $4,219
Solarize Rebates: $1,800
Net Cost: $8,045

System size: 4.41 kW
Annual production: 6,747 kWh
Annual savings: $877
Interested in improving the energy efficiency of your home? HC3's Energy Smart Colorado program can help pay for your project.