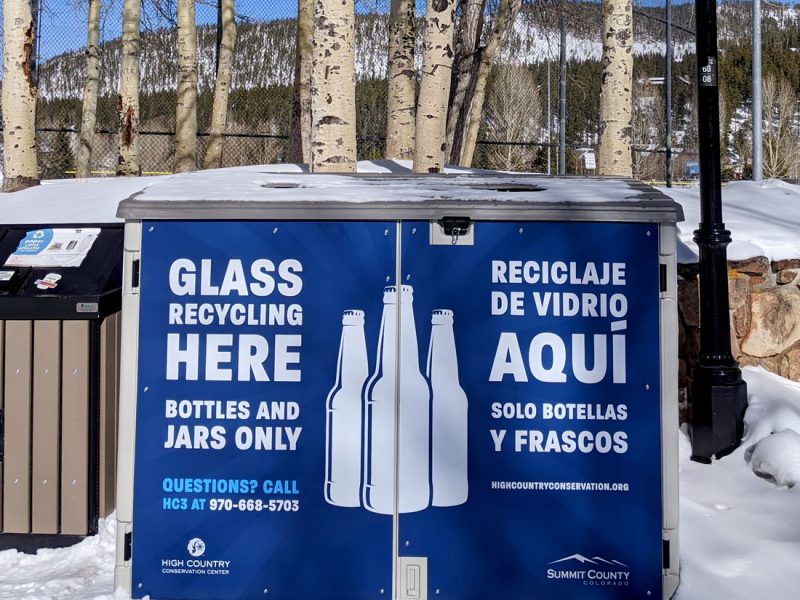 Please sort your glass from other recyclables and drop off at a local recycling center or glass station. Rinse and remove caps or lids before you recycle.
Glass is not accepted in curbside single-stream recycling.
Importance of glass recycling
Glass easily breaks into small pieces making it hard to separate from other materials and tears up sorting machines. When sorted properly, glass is infinitely recyclable and made into new bottles right down the road at the Rocky Mountain Bottling Company (part of MillerCoors) in Golden, Colorado.
This recycling service is made possible thanks to the Summit County Strong Future Initiative. Through this initiative, Summit County Government is expanding recycling programs to reach the community goal of 40 percent diversion by 2035. Stay informed on new programs by signing up for HC3's monthly newsletter.
Breckenridge Glass Stations
Blue River Town Hall
110 Whispering Pines Circle, Blue River
Summit County Library South Branch
103 S Harris St., Breckenridge
Carter Park
300 S High St., Breckenridge
Kingdom Park/Recreation Center
880 Airport Rd., Breckenridge
Stephen C. West Ice Arena
189 Boreas Pass Rd., Breckenridge
Wellington Station 
At the Intersection of Bridge St. and Stables Dr.
Dillon Amphitheater
201 W Lodgepole St. Dillon
Dillon Town Hall
275 Lake Dillon Dr, Dillon
Dillon Valley
019 Straight Creek Drive, Dillon
Along the curve where Deer Path turns into Little Beaver
Keystone Resort
North Shuttle Parking Lot
At the intersection of St. John Rd. & Lone Pine Rd.
Whole Foods Market
261 Lusher Ct, Frisco
Walter Byron Park
306 Creekside Dr, Frisco
Silverthorne Glass Stations
Willowbrook, Bus Stop 47
100 Willowbrook Rd, Silverthorne
Glass is also accepted at the Breckenridge, Frisco, and Silverthorne Recycling Centers.