Christ Lutheran Church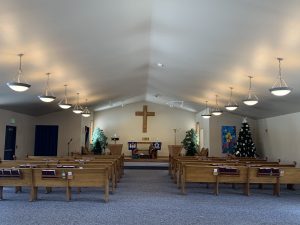 Christ Lutheran Church has been in Summit County for twenty-five years, providing people with compassion, community, and communion with Christ. Beyond religious use, the Church generously opens their building for the community to use – including a preschool program, youth groups, and local professionals seeking office space.  
Built in 1996, Christ Lutheran Church realized their building needed some improvement and decided to join Resource Wise in early 2020 to understand energy efficiency priorities. After receiving a comprehensive sustainable business assessment, the Church decided to move forward with air-sealing and insulation of the crawl space to improve building efficiency and indoor comfort. The preschool, staff, and Pastor Larry McGurer have already noticed the heat is more evenly balanced throughout the building.  
Project Details
Efficiency improvement: Insulation and air-sealing the crawl space
Resource Wise rebate: $900
We are called to care for the earth, we want to be good stewards of the planet and protect resources.  –

Rich

Hein

ic

ka, Christ Lutheran Church Volunteer